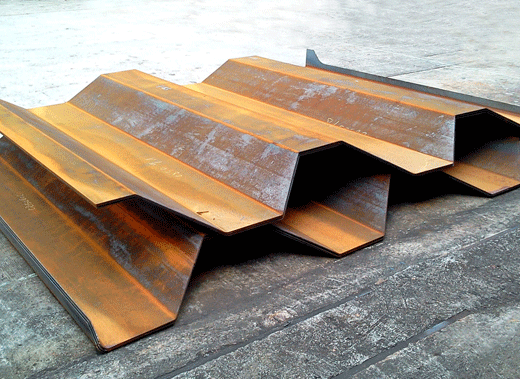 Leng Huat Steel offers plate corrugation and crimping services for different materials like aluminium, carbon steel, etc. which are widely used in building construction and OEM equipment manufacturing. Examples of building and construction uses include that of oil rig accomodation wall and general fencing. For OEM equipment, corrugated plates find their place in container bodies or even tipper truck body parts.
The process of corrugation or crimping involves multiple bends to an otherwise flat plate with a given profile in order to increase the rigidity of the plate and prevent flexing under stress. This removes the need for extra supports like brackets or stiffeners. In other words, these linear corrugated bends serve to increase the tensional strength of the plate in the direction prependicular to the bends created.
At Leng Huat, we use high accuracy CNC pressbrake machines to ensure the end product of corrugated plates precisely match that of our customers' profile requirements.
Customers are able to bring their completed crimped plates from Leng Huat for hot-dipped galvanizing to further enhance the finished product, ensuring better durability and weather resistance of these plates.
You may also like
Applications :
Building & construction (channels, beams, angle bars, etc.)
Marine & shipbuilding (vessel & oil rig components)
Oil & gas industry (oil rig accommodation walling)
Truck & mining industry (Tipper truck and other vehicular parts)
Other structural steel components
Key Specifications/Special Features :
Use in container bodies and tipper truck parts
Customisable corrugation profile
Undergoes cold-bending process, and crimping hot-dipped galvanizing (optional)
Economical and has long service life
Easily transported
Corrugated materials that have high corrosion resistance and durability