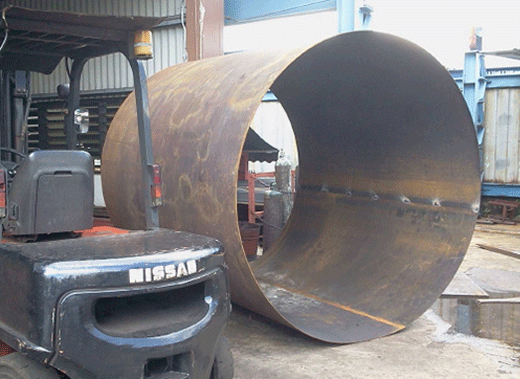 Reliable steel rolling services are offered at Leng Huat Steel. We provide plate (or flat bar) rolling of sheet metals into full-cylinders, half-cylinders, arcs or even cone or pipe clamp rolling. Widely used in the construction, marine and shipbuilding, oil and gas, and truck mining industries, materials that we can roll include, but are not limited to carbon steel, aluminium, stainless steel, copper and other specialty steels such as Hardox, Domex, Weldox, Optim, Reax, Quard and Quend, etc.
We also provide high-quality section rolling services. These added facilities will apply to the rolling of angle bars leg-in/leg-out; hollow section, beams and channel rolling, rolling of flat bars flats-on-edge (hard way); and pipe (or tube) rolling up to 4' diameter and 6 metres in length.
Our dependable CNC controlled machines can work with a variety of plate sizes depending on the required specifications. In addition, our professional metal rolling services involve accurate width control, gauge control, flatness control and other principals of measurement.
For all the above products, Leng Huat also offers the alternative to rolling - which is progressive bending. See section on Bending & Progressive Bending for more info.
You may also like
Applications :
Building & construction (channels, beams, angle bars, etc.)
Marine & shipbuilding (vessel & oil rig components)
Oil & gas industry (oil rig accommodation walling)
Truck & mining industry (Tipper truck and other vehicular parts)
Other structural steel components
Key Specifications/Special Features :
Reliable and efficient steel rolling services
Provides accurate rolled metal measurement and control
Plate rolling of cylinders, cones and rings
Section rolling of angle bars leg-in/leg-out, flat bars flats-on-edge (hard way), channel and beam rolling, pipe (or tube) rolling
Capable of handling different kinds of materials, metals & non-metals
Products can be customisable to a variety of shapes & sizes