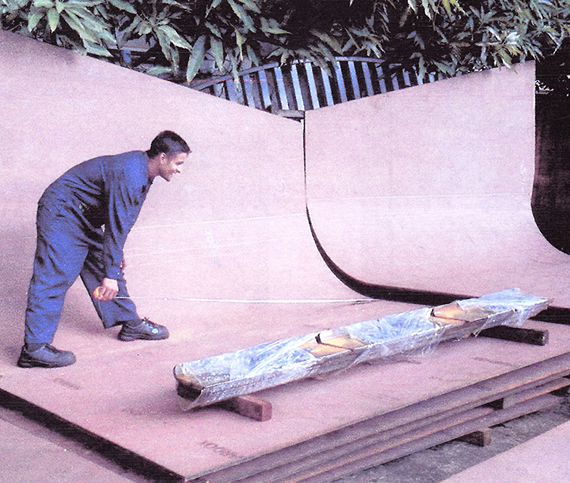 The process of bending is achieved with the use of multiple pressbrake machines available onsite. Apart from standard 90 degree bending to form angle bars (from flat bars or plates) or "C" channels, we are also capable of bending special acute angles, or more complicated designs like corrugated or crimped plates – see product Corrugation & Crimping for details.
At times, shearing or cutting to resize the original plate is required before bending of which are also available at Leng Huat should the need arise.
With regards to progressive bending, this service is the preferred alternative for forming of more complex engineering components due to the increased precision and control that progressive bending has over standard plate rolling. Products include the full range offered by plate rolling, i.e. half-cylinders, reducer cones, arcs, transition cones, transition pieces and elliptical or asymmetrical cones or arcs.
Our machine operators are highly skilled in the area of bending and pressbrake operations and have produced a wide scope of steel architectural and structural building products that are used in stadiums, bridges, marine vessels, oil rigs, etc.
You may also like
Applications :
Building & construction (channels, beams, angle bars, etc.)
Marine & shipbuilding (vessel & oil rig components)
Oil & gas industry (oil rig accommodation walling)
Truck & mining industry (Tipper truck and other vehicular parts)
Other structural steel components
Key Specifications/Special Features :
Produced from excellent quality metals (material supplied on request)
Accurate and precise bending
Applicable to a wide range of materials and thicknesses
Applicable for different shapes and sizes